(Last Updated on December 20, 2021 by zimdaily)
CHILE – Former student leader Gabriel Boric claims 55.8% of votes counted to defeat far-right opponent José Antonio Kast Gabriel Boric, a leftist former student leader, will become Chile's youngest president after storming to a resounding victory in a run-off vote against his ultra-conservative far-right opponent, José Antonio Kast.
With nearly 97% of the vote counted, the 35-year-old claimed 55.8% to take a 12 percentage point lead over Kast, who quickly accepted his defeat and called Boric to congratulate him.
"We are a generation that emerged in public life demanding our rights be respected as rights and not treated like consumer goods or a business," Boric said in front of a vast crowd packed into a Santiago boulevard. "We no longer will permit that the poor keep paying the price of Chile's inequality."
Boric has vowed that he will oversee a youth-led form of inclusive government to attack nagging poverty and inequality, which he has pinned on the free market economic model that was imposed during the Augusto Pinochet dictatorship.
His progressive campaign promises included fighting climate by blocking a proposed mining project in the world's largest copper producing nation and ending Chile's private pension system — a hallmark of the Pinochet neoliberal model.
"The times ahead will not be easy," Boric said on Sunday. "Only with social cohesion, re-finding ourselves and sharing common ground will we be able to advance towards truly sustainable development – which reaches every Chilean."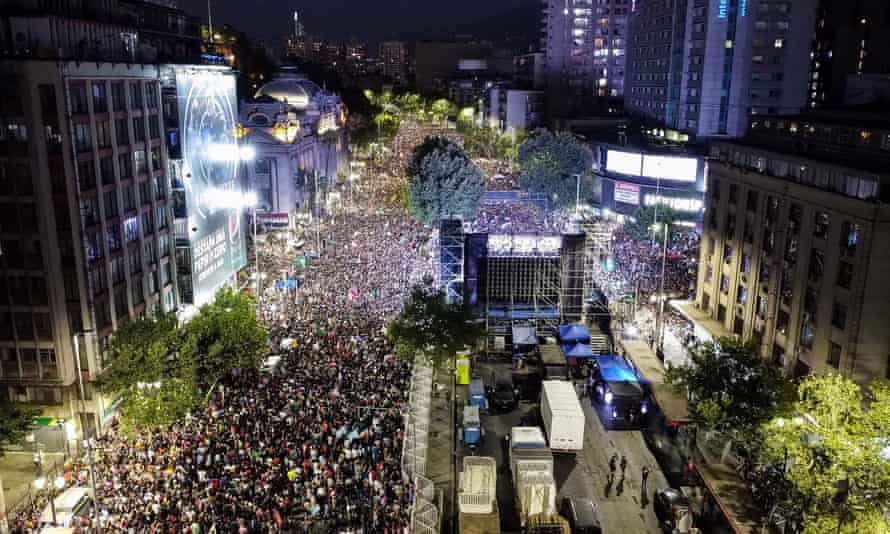 His relative inexperience was regularly highlighted by his rivals, but on Sunday night Boric was fluent and assured as he reiterated his campaign pledges before the raucous crowd of supporters.
He thanked each candidate in turn – including Kast – and reinforced his commitment to Chile's constitutional process, a key consideration for many as the country embarks upon this latest chapter in a turbulent period of transition.
"Just, truth and respect," Boric said as he signed off to deafening cheers. "We will continue."
Kast, a father of nine, said earlier outside his campaign headquarters: "Gabriel Boric can count on us."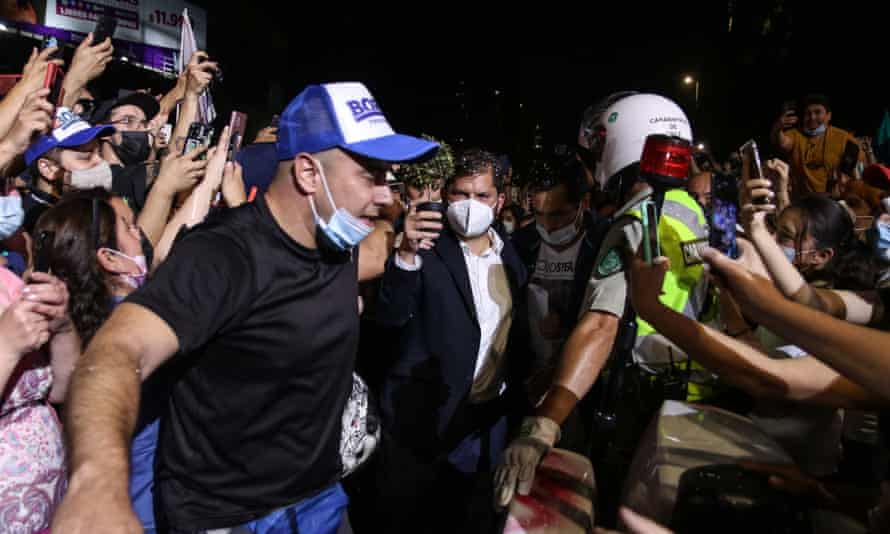 The air on Sunday night was split by the sound of car horns and the jubilant chants of Boric's supporters, who thronged the street corners, plazas and wide boulevards of downtown Santiago.
"This is such a massive win – I still can't quite believe it!" exclaimed Communist party congresswoman Karol Cariola outside Boric's campaign hub in downtown Santiago.
Kast won the first round vote in 21 November by two percentage points, but Boric was able to prevail on Sunday by expanding beyond his base in Santiago and attracting voters in rural areas. For example, in the northern region of Antofagasta, where he finished third in the first round of voting, he trounced Kast by almost 20 points.
In Santiago's subway, where a fare rise in 2019 triggered a wave of nationwide protests that exposed the shortcomings of Chile's free market model, young supporters of Boric waved flags emblazoned with the candidate's name while jumping and shouting as they headed downtown for his victory speech.
"This is a historic day," said Boris Soto, a teacher. "We've defeated not only fascism, and the rightwing, but also fear."
On a sweltering day in Chile, voting was marred by public transport difficulties across the country, although the government claimed it had done everything in its power to guarantee voters could reach polling stations.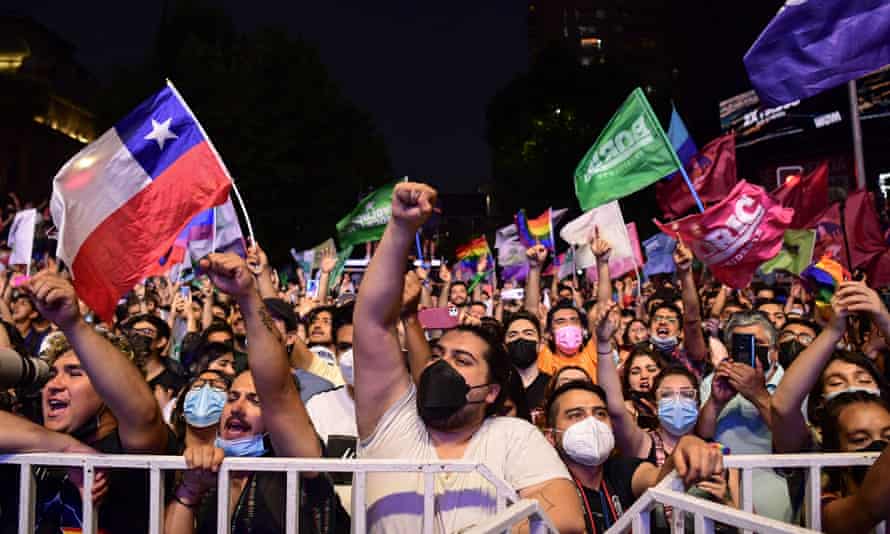 Boric, who comes from Punta Arenas in the far south of Chile, has enjoyed a meteoric rise from student politics to be the next occupant of La Moneda, Chile's presidential palace.
He has changed his image markedly since his participation in 2011's student movement, emerging from a group of young student politicians to serve two terms in the national congress before running for the presidency.
At 35, he will become Chile's youngest ever president when he is sworn in on 11 March.
His term lasts until 2026 and will encompass a period of social and political transformation for the country, which is currently rewriting its constitution – the result of the 2019 mass a protests.